DIALOC ID and its partner NAM HOANG celebrate this great project!
On 27/9/2016, the Library Information Center, Vietnam National University Hanoi (VNU – LIC) has launched the system of the automatic Book Drop 24/7. The investment has been realized under the Project named "Building a digital library generation 2.0 for pinnacle research and training activities in Vietnam National University Hanoi".
The library is equipped with devices of information technology, security, and automation of Dialoc ID in the Netherlands; to help library staff, students, and learners of VNU to access to and use modern technology services.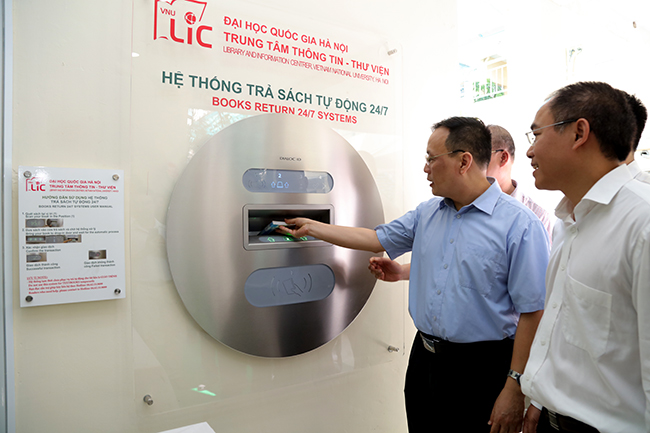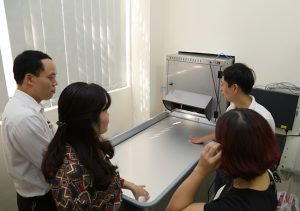 At the opening ceremony, Director of the Library Information Center – Mr. Nguyen Hoang Son said that the self-check and automatic book drop will help users to check in & check out by themselves in an easy way. The system will require users to confirm their library account (ID, password), and then the transaction (check in/checkout)  shall be recognized and registered in the LMS at most safety and accuracy.
In addition, the Center is equipped with the automatic Book Drop 24/7. It will help users to return books at any time, not dependent on the library opening hours. Return procedure is very simple: just scan the RFID tag attached to the book for verification, put the book into the letterbox and the hatch will open. The system is installed near the main entrance of the Library Information Centre, C1T Building.
The Hybrid security gate system controls and detects items which are not checked out. The system is integrated with the library management software that allows users to check in & check out and renew by themselves without a librarian assistance.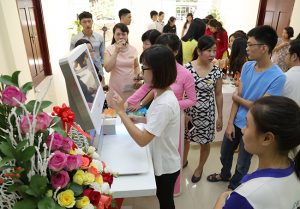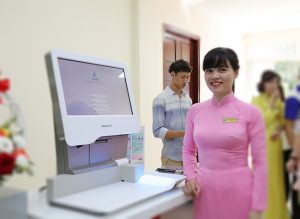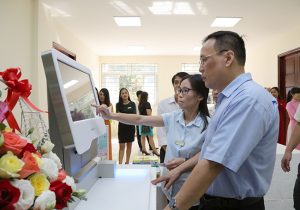 Automated return and sortation systems give the library staff the freedom and flexibility to spend more time with patrons and perform more specialized tasks. With all these new applications of information technology, the Library Information Center – VNU Hanoi has become one of the  most modern and best equipped libraries in Vietnam!