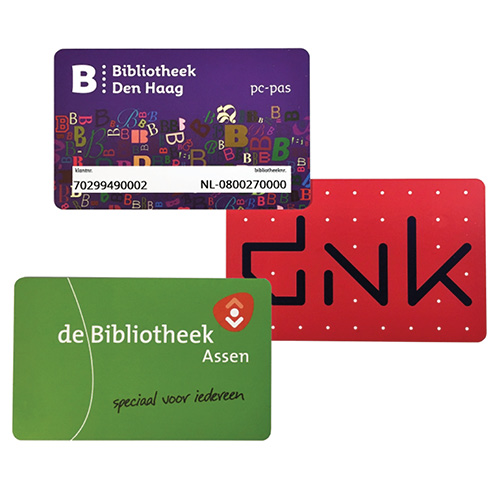 Library cards
For your library members
Today it is more important that libraries show their added value. The Library is much more than just lending books.
Also with the recent introduction of e-books the Library is still of major (social) value.
The call for libraries to join forces and establish one strong brand as corporate image, to build a future-proof library and to send a strong signal to the public is very actual. The choice for the development of a National Library Card supports these ideas.
In the very near future the National Library Card members of the Netherlands have access to all physical and digital collections of all libraries in the Netherlands.
Members can borrow and return anywhere. The National Library Card makes it more attractive for library use (potential) members and provides space for innovation and (development) of new forms of supply in addition to the traditional lending model.
A National Library Card:
offers besides the lending proposition space for new (physical and digital) propositions and initiatives;
is attractive to customers and responding to changing needs and demands of (potential) customers;
in line with new audiences and generations;
is clear and recognizable;
makes rural marketing possible with a clear proposition and nationwide call to action;
provides space for new revenue models;
strengthens the brand "Library".
Dialoc ID is a leading manufacturer and supplier in the Netherlands and across the border of membership cards in various styles and finishing for Libraries, Football clubs, Sport clubs, Loyalty and Leisure, etc. Only the best components are used in manufacturing and guarantee a lifetime of optimal performance within ISO standards.
Please contact us for information about the supported chips, barcoding, printing, encoding, data programming possibilities, etc.