HandClean sterilizer
Safe self service by disinfecting hands
Hygiene and safety are the leading edge of the new measures under which service providers or companies that are in contact with the public must operate.
A safe self service function in the library is therefore of crucial value for the library staff and patrons. Dialoc ID Products has excellent new products that can help the library with this.
The HandClean sterilization unit is simple in design and ergonomics. The unit can be hung on the wall  or placed free standing on a desk and can be used at the self service, the return service, the front desk or in the back office.
The construction is made of stainless steel 304 that is used widely in healthcare. A built-in sensor detects hands when they are presented in the opening, without having to touch or operate the device.
The HandClean Sterilizer will then apply an amount of hygienic spray to help prevent microbial contamination. The Green Nature spray is made from bio-ethanol, fully degradable and not harmful to the environment.
Hands can be cleansed by rubbing dry without the addition of water, so it is not necessary nor recommended, to use paper towels.
A filling opening at the top gives easy access to a tank containing 1.2ltr. Here the hygienic spray liquid (+/- 3000 doses) can be filled. An included funnel makes refilling easier.
How to use?

Open both hands with palms up and insert them into the opening for the sensor to detect. The unit will automatically apply the correct dose of the hygienic spray. Remove your hands from the opening and rub them dry. The hygienic spray helps prevent microbial contamination.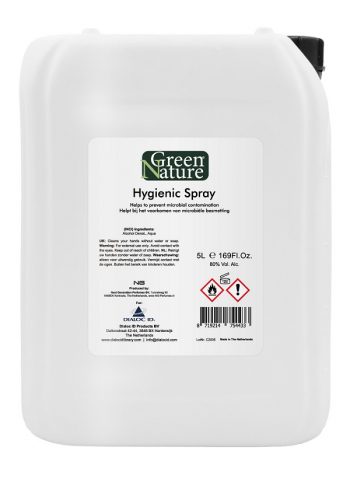 Specifications
HandClean Sterilizer
Design
Unique stainless steel hygienic design with easy access opening for offering hands so that fingers get more hygienic liquid. It results in optimal moistening and keeping hands clean in an efficient and fast way.
Hygienic function
It is an automatic spray unit that can effectively help prevent microbial
contamination. It cleans 99.9% of bacteria present on hands and is an essential product for personal hygiene.
Placement
Can be hung on the wall or placed free standing.
Economical
Easy and economical in use because a dose is automatically sprayed when hands are offered in the opening
Refill type
Easy to fill with Hygienic Spray Liquid via the easily accessible filling opening on the top of the unit.
Model:  HandClean sterilizer
Dimensions: 160x250x300mm (DxWxH)
Voltage: 230V, 60Hz / 20W
Content tank: 1,2 ltr. (+/- 3000 doses)
Certifications: CE